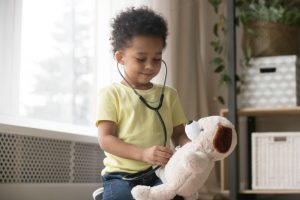 Babies actively take in everything from the world around them. The colors, shapes, smells, textures – it's all new and exciting to developing brains. However, your baby doesn't yet understand that the world can appear and feel differently to you or that you'll have thoughts and emotions different from hers.
That's because your baby hasn't yet developed Theory of Mind (ToM). ToM is a cognitive ability that helps children understand that other people's mental processes are different than theirs. In other words, just because she knows why she laughed at the cat running across the room doesn't mean everyone else in the room does.
ToM emerges between ages four and five, but your baby's experiences in her world allow her to continuously develop this skill.
Why Is Theory of Mind Important?
Theory of Mind is a necessary foundational skill for your baby to understand that her thoughts, feelings, and beliefs are different than those of her siblings, friends, and caregivers. It is necessary for her to be able to develop skills such as perspective taking (putting herself in someone else's shoes) and empathy. When ToM develops, your baby will:
Understand that what she sees helps her know what actually happens.
Begin to understand that others' outward expressions may not match their inner feelings (someone might look happy but feel disappointed on the inside, for example).
See that her actions may have emotional consequences for others.
Understand that people can have thoughts that are different than hers based on their own mental state.
ToM development continues throughout childhood and adolescence, eventually leading to a child's ability to understand more complex and abstract concepts in reading and language, like metaphors and symbolism, and better social skills.
The Building Blocks of Theory of Mind
From the moment she opens her eyes, your baby's brain is working to navigate her world and make sense of it. Theory of Mind begins to develop as soon as your little one starts forming her own thoughts.
Here's a glimpse into how ToM starts to work in infancy and toddlerhood:
ToM development in infancy
You'll notice the ToM wheels churning in your baby's brain when she follows your gaze as you look at something or follows your hand as you reach for her blanket. With every follow, her cognition is gearing up to understand that you do things separately from her and have different wants, needs, and thoughts.
You can help your baby understand your emotions by making sure your face is visible to her and being animated. If you're holding her and accidentally drop her bottle so that her formula spills out, she'll probably laugh, but you might show her a surprised face.
ToM development in toddlerhood
Your toddler is starting to grasp thoughts and emotions and how they work. For example, she might use a pillow as a "table" for her stuffed animals to sit near for dinner. She knows it's a pillow, not a table, but she's able to think of it as something else. Similarly, she may look confused when you look mad about something she thinks is funny, like poking her brother.
You can help her further her thoughts through play. Role-playing is an excellent joint attention opportunity that lets your toddler picture herself as someone else and how they might react to something. When role-playing (while doing the "Pretend Games" activities in our BabySparks development program, for example), talk about what's happening and how you both feel. Be sure to use feelings words, like "Wow, your dog looks confused and scared! Let's see if I can make her feel better."
Although Theory of Mind is a skill that takes time to develop, it begins to take shape as soon as your baby forms her first thoughts.