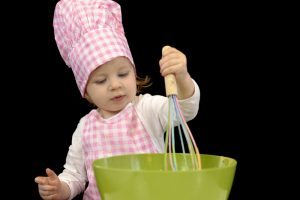 Did you make your bed this morning? How about a cup of coffee? Maybe you went to work and completed a multi-step project. All of these examples have at least one thing in common: Following directions.
Following directions is an essential life skill, and it starts in babyhood.
Highlights: 
Following directions is an essential life skill that starts in babyhood. 

To successfully follow instructions, we need supporting skills like receptive language, executive function, and an understanding of how to do things in order. 

This skill emerges around 6 months when babies begin responding to "no". By 9 months, they follow directions by imitating.  

Babies can begin following simple one-step directions around 10 months and can follow two-step directions by 24 months. 

When giving instructions, being enthusiastic, using simple language, and giving children time to process can help them develop this skill.
What are the Building Blocks of Following Directions?
To successfully follow instructions, we need these supporting skills:
Receptive language — The ability to understand language, whether in speech, gesture, sign-language, written, or picture form. This begins to develop at birth.
Understanding vocabulary and concepts — For example, if you tell your toddler to put her cup on the table, she needs to grasp the meaning of "cup" and "table," and the concept of "on".
Executive function skills — Working memory, a critical executive function skill, is necessary for babies and toddlers to follow simple directions.
Sequencing — To successfully follow directions, we must do certain things in a certain order. Babies begin to learn sequencing through multi-step routines, games like "Itsy-Bitsy spider," and reading.
How Does Following Directions Develop?
Let's explore the evolution of following instructions, imagining your child has a favorite stuffed bear named "Teddy."
Responding to "no" – around 6 months
Your baby is playing with Teddy on the kitchen floor. You can see she's about to put him in the dog's water bowl. You say no and she stops.
Following directions by imitating – around 9 months
It's time to take your baby to daycare. You go through the usual routine of putting Teddy in his special corner of the couch. You say wave bye-bye while waving to Teddy. Your baby imitates you with a clumsy wave.
Following simple 1-step directions supported by gestures – begins around 10 months
After work you sit on the floor for a few minutes of pre-dinner playtime. You say sit here and pat the floor beside you. Your baby crawls over and sits next to you. Your partner comes home and joins you. You hand your baby Teddy and say give this to Mommy/Daddy while gesturing at your partner.
Around 15 months your toddler can (and loves to) play the point-to game: Point to your eyes. Point to your nose. By around 17 months you can involve Teddy in this game: Point to Teddy's ears. Before bed, while snuggling for bedtime reading, she can point to images on the book page when prompted: Point to the cat.
As she understands more and more words and concepts, your toddler evolves to following directions like put Teddy in the box without needing you to point to the inside of the box.
Following directions using mental images & deferred imitation – begins around 16 months
As your toddler's understanding of object permanence evolves, she can hold an image of something in her mind. She can also imitate actions she observed in the past, rather than only imitating actions immediately after observing them. These come together when she follows directions like: Go get Teddy when he's in her room (holding a mental image of where she last saw him) and using a step stool to reach him from the windowsill (imitating something she's seen you do in the kitchen to get things off high shelves).
Following 2-step directions – around 24 months
You and your toddler are playing with Teddy and the toy kitchen. She can follow directions like Put Teddy on the blanket and give him a cup. She does these in the correct order (sequencing). She may even be able to follow 3-step directions like: Get Teddy and your blanket and bring them to the couch.
Tips for Teaching Your Child To Follow Directions
Get her attention. Before you give your child directions, make sure she's listening. Say her name and make eye contact.
Be enthusiastic. Little ones love and are motivated by positive interactions with the grown-ups in their lives. Make following directions a fun, upbeat game.
Use simple language. Following directions is a surprisingly tricky task for little ones, even when there's only one step involved. Direct, pared-down language helps.
Give her time to process. Especially with directions involving more than one step, your child may need several seconds to think about what you said before she acts on it. She may also need to you repeat the directions.
Teaching your child to follow directions is important, but be patient! Experts say to expect your little one to follow directions just 50% of the time at this stage.