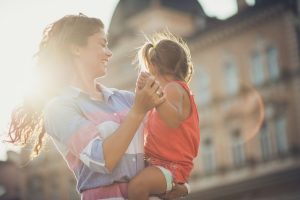 It's adorable to watch your toddler move her hips to her favorite song, but did you know that dancing with your child is good for her (and you!) in many ways? Here are some of the benefits of scooping up your little one and busting a move:
Highlights: 
Dancing with babies and toddlers benefits them in many ways!

It promotes bonding, and encourages exercise and imagination. 

Dancing supports different areas of development such as cognitive, language, sensory, and motor skills. 

Rhythmic movement can calm crying babies. Dancing can also distract children from unwanted behavior. 

Having a dance party with your little one exposes them to the benefits of music, and can boost your mood and release tension.
It incorporates the benefits of music. Whether listening to music, singing, playing an instrument, or dancing, music has profound effects on nearly every area of development. You can read more about this here.
It promotes bonding. Research suggests that even our prehistoric ancestors used dance as a tool for social communication and bonding. Dancing encourages closeness, sharing eye-contact, and positive feelings.
If you're a mother having trouble bonding with your infant (perhaps due to baby blues or postpartum depression), dancing together to your favorite music may help.
It encourages exercise. For parents and caregivers alike, finding time to exercise can be tough. Dancing with a baby or toddler can help both of you move and stretch your bodies, and even get your heart rates up.
It can curb caregiver stress. Let's face it, caring for an infant or toddler isn't always a walk in the park. Throwing a little dance party can help you release tension and reset your mood.
It may calm a crying baby. The rhythmic movement of dancing and being close to you may be soothing for an upset baby.
It can distract a child from unwanted behavior. In this article we talk about discipline strategies for the littlest among us, one of which is distracting and redirecting. If your crawler is headed for the lamp cord, scooping her up and dancing is a great way to do distract and redirect.
It supports sensory and motor development. When it comes to nurturing your little one's ability to move her body in different ways, dancing is another tool in your toolbox. If your child is an infant, you can hold her tummy-down in your arms for a fun version of tummy time. For babies who can sit, crawl, stand, cruise, or walk, dancing strengthens muscles and bones and promotes stability, balance, body awareness, and coordination.
It supports language development. Learning dances with set movements (like head, shoulders, knees and toes) is packed with language learning: It teaches vocabulary, following directions, sequencing and predicting, as well as pragmatic (social) language skills like awareness of others.
It supports cognitive development. Dancing teaches concepts like up, down, left, right, fast and slow, which contribute to spatial awareness. Dances with set steps also help children develop executive function skills, like working memory.
It encourages imagination. Dancing presents endless opportunities to spark symbolic play and creative thinking, like having your toddler dance like a cat or an airplane.
Although mommy-and-me-type music classes that incorporate dancing are a popular option, you don't have to leave home for quality dance time. You can free-dance, dance like different animals, or teach your tot the hokey pokey. You can also find developmentally-supportive ways to dance with your little one in our BabySparks program.