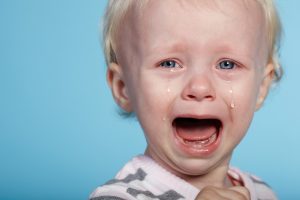 Tantrums are not a perk of parenting, but they are a normal part of your toddler's discovery and understanding of emotions. Sometimes tantrums are preventable, and other times you need to ride them out while taking a few actionable steps to help your toddler calm down.
Every toddler will have a tantrum – probably several, actually. However, tantrums occasionally can point to other problems that aren't as common, like attention-deficit/hyperactivity disorder (ADHD) or visual impairment.
Disorders like ADHD aren't usually diagnosable until between ages three and five, but children can display some warning signs in toddlerhood. The earlier you act, the more support and intervention he can receive. In the case of frequent and severe tantrums, it's a good idea for you to address your concerns with your toddler's pediatrician as soon as possible.
Highlights: 
Tantrums are a natural part of a toddler's discovery and understanding of emotions. However, tantrums can occasionally point to other problems, and the earlier parents act, the more support and intervention a child can receive. 

Tantrums might signal a problem if:

They're frequent (five a day or more). 

They last a long time (most tantrums last five minutes or less). 

Your child tries to hurt themselves. 

You can't calm them down after the tantrum has passed. 

With the support of parents and pediatricians, toddlers can learn ways to work through their emotions to lessen the severity of tantrums. 
When Tantrums Might Signal a Problem
Your toddler's tantrums can be erratic in length and frequency, looking different each day. Problematic tantrums are usually more recognizable when a child hits preschool age. Although it can be challenging to judge what's normal and what's not in a toddler's outburst, there are some behaviors that toddlers can display that could at least warrant a talk with the doctor.
Not sure what to look for? These red flags, especially when more than one applies to your child, may indicate an underlying problem that needs additional support:
His tantrums are very frequent.
It's common for toddlers to have one, or even a few tantrums every day, especially near a time that they usually get hungry or tired. If you're noticing an uptick in your toddler's tantrum number, like five a day or more, then you might consider bringing it up to your pediatrician.
His tantrums last a long time.
Most tantrums last five minutes or less. That's not to say that if your toddler has a tantrum lasting 15 to 30 minutes, you need to rush him to the doctor. But, if your toddler usually has tantrums that last 25 minutes or more even with you trying to intervene, there might be something else going on.
He tries to hurt himself or others.
Self-injury is usually a warning sign that your little one needs additional support. In a toddler, self-injury can mean biting himself, pulling his hair, banging his head on the wall, or scratching his skin aggressively. He might also direct his anger to someone or something else, like you, a sibling, or a pet.
You can't calm him down after the tantrum.
Most toddlers are especially loving after they've calmed down from a tantrum. This is often an excellent time to talk to them about what they were feeling and how they can handle it better next time. However, a toddler that still seems panicky, sad, or angry after his tantrum passes could be having an overwhelming flood of emotions he can't mentally handle.
With your and your pediatrician's support, your toddler can learn ways to work through his emotions to lessen their severity, even when other conditions are present. And, as he grows, his feelings will typically begin to balance out, too.