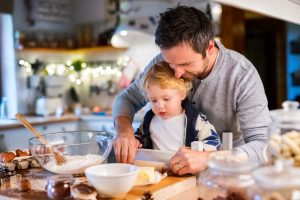 When you imagine cooking with your toddler, you might envision spilled ingredients, overly-salted soup, and a child with sauce all over his clothes. We get it, inviting your clumsy toddler into the kitchen can seem daunting! But here's the thing: The benefits of pulling a step stool up to the counter and handing your little one a spoon run far and wide, from teaching early math to building risk-management skills, and even reducing picky eating.
Highlights: 
While it may seem like a messy task, cooking with your toddler provides a ton of benefits and can even reduce picky eating.

Cooking with toddlers can help them: 

Learn math, science, and language skills.

Experiment with their senses.

Feel more confident. 

Become more adventurous eaters. 

Build risk management skills. 

Boost creativity. 

Common cooking tasks for toddlers include washing fruits and vegetables, tearing lettuce, stirring batter, and sprinkling herbs and spices. 

Check out the BabySparks program for self-care and sensory activities that involve exploring the world of food with your toddler! 
Let's take a closer look:
Benefits of Cooking with Toddlers
Cooking with your toddler can help him:
Learn math, science, and language skills. For example: Measuring flour, naming food groups, counting how many eggs you need for a recipe, and learning how temperature affects the food.
Experiment with his senses. Toddlers are naturally curious! Invite him into the kitchen to touch the pizza dough, smell different herbs and spices, feel if a tomato is ripe enough, or watch how a crust turns golden brown in the oven. Instead of only using taste to decide if he likes a certain type of food, he can use all of his senses.
Feel more confident. Teaching your child how to cook boosts his developing independence. Plus, toddlers love to show off! Give him the ingredients to make his own pizza, sandwich, or salad and sit back and watch how he suddenly becomes a master chef.
Become a more adventurous eater. Toddlers are much more likely to eat something new if they're involved in cooking the meal, rather than having the food prepared and handed to them. Giving him a sense of ownership over food prep can increase his willingness to try it.
Build his risk-management skills. Research shows that allowing toddlers to engage in supervised risk-based activities (stirring a hot pot of soup or using scissors or a dull knife) helps them learn to navigate their environments and use their bodies safely. However, guidance should always come first in the kitchen. It's important to take his age, developmental level, and abilities into consideration when cooking together. For example, he may be ready to use an oven mitt to take a hot potato out of the oven, but not ready to use scissors to cut the ends of green beans. Throughout each cooking session, have a safety discussion first. Slowly introduce new tools, elements, and how to safely turn appliances on and off. Remind him that cooking is an activity to do together and he should never do it alone.
Boost his creativity. Cooking is indeed an art! Allowing him to make his own delicious creation is a great form of self-expression.
Common Cooking Tasks for Toddlers
Be sure to explore the self-care and sensory activities in our BabySparks development program for ideas about exploring foods with your child and encouraging him to help before, during, and after meals. Also consider these common tasks that toddlers can do in the kitchen:
Wash fruit or vegetables
Tear lettuce
Sprinkle herbs and spices
Stir batter
Use a pastry brush to spread oil or butter
Use cookie-cutters
Mash potatoes, stuff a pepper, add ingredients onto a pizza, or any other task that involves getting his hands messy!
Of course, other activities such as setting a table, placing bowls in the dishwasher, or throwing away dirty napkins after dinner are also great ways to make him feel helpful. Don't hesitate to assign him a chore before or after family meals!