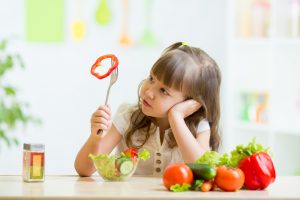 It's lunchtime, and you try, for the third day in a row, to encourage your 1-year-old to eat some yogurt. You spoon some into his mouth, only for his face to scrunch and his tongue to immediately push it back out. He does the same with pureed and mashed veggies and fruits. Why is he becoming such a picky eater?
Actually, he may not be. Sometimes, what looks like picky eating is really a sensory issue that makes him look at food a lot differently than others do. In other words, your baby's brain is making him feel very strongly about specific textures, flavors, or even colors of food.
Highlights: 
Sometimes what looks like picky eating may be a sensory issue. 

Children may be over-sensitive or under-sensitive to foods when they have sensory problems. 

These sensory issues can mimic picky eating because they cause a child to avoid certain foods, become fussy during feeding time, or refuse to eat new foods. 

If you believe your child might have a sensory issue with food, talk to your pediatrician. In addition, you can do these things at home to support their dietary changes:

Let them play with their food. This can help them adjust to new textures, smells, and colors. 

Use what they prefer as a foundation for new choices. For instance, blending new flavors with their favorite macaroni. 

Offer a variety of healthy options so they can choose what foods they want to try. 
How Do Sensory Issues Affect Eating?
Underlying sensory issues can cause food aversion, or the avoidance of food. Children can either be over-sensitive or under-sensitive to foods when they have a sensory problem. For some little ones, slightly lumpy textures can feel like large chunks of food in their mouths (over-sensitivity), while others might taste barely any flavor from a peanut butter and jelly sandwich (under-sensitivity). Either way, the result isn't pleasant for their little palates.
Sensory issues can mimic picky eating in that they cause your baby to:
Avoid certain foods
Become incredibly fussy during feeding time
Stick to eating only a few favorite foods
Refuse to try new foods
Unaddressed food sensory challenges can become an even bigger problem as your baby grows and requires a balanced and varied diet.
What Can You Do About Food Sensory Issues?
If you think your little one has a sensory issue when it comes to food, talk to his pediatrician about your concerns. Try to jot down what kinds of foods he's avoiding, what he does when he turns down food, and anything else about his diet and feeding process you think would be helpful.
Depending on your child's history, your pediatrician might look into other underlying problems that can cause sensory food issues, like sensory processing disorder, anxiety, or autism. The doctor might also refer you to a pediatric feeding therapist or dietician who can offer guidance.
Here's how you can support your baby's dietary changes and sensory exploration at home:
Let him play.
Babies with sensory challenges need extra time to adjust to new textures, smells, and colors. To help him become more comfortable, let him play with his food before trying it!
Give him the bowl of yogurt to swirl his fingers around in. Let him pick up and smell a variety of berries. Help him make a picture by gluing small pieces of cereal onto paper. If he refuses to touch the food, you can always ease into play by placing it in a food storage bag. He can still look at and play with it without getting messy.
Use what he prefers as a foundation.
Some kids with food sensory issues prefer crunchy foods over soft foods or vice versa. If your baby shows a preference for some foods over others, you can use those foods as a foundation for new choices.
Say your baby likes elbow macaroni without anything added to it. You might, over time, add a few fresh herbs and spices or a low-sodium gravy to her pasta to stimulate her senses. Do it very gradually by adding just a few flecks of herbs or a teaspoon of gravy the first time and bumping it up to slightly more the next.
Give choices.
Little ones can benefit from having some choices over their food. Try setting out a plate with healthy options you'd like your child to try, like some bites of chicken, string cheese, cucumber slices, strawberries, and sunflower seeds. Ask him to pick two foods he wants to try for his snack. He'll pick whatever's the least scary to him, yet he's still making huge strides for his diet.
Food sensory challenges can feel frustrating for both your child and you, but with patience and perseverance you can make progress! Continue to keep logs of your baby's progress so you can continually update his pediatrician or feeding therapist.