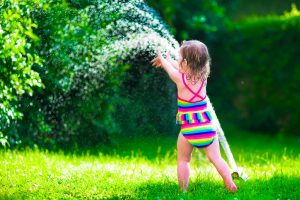 Whether you're at the beach, by the pool, or simply in the comfort of your bathtub, playtime in the water is a wonderful opportunity for you and your little one to bond. But making a splash together isn't just a fun way to create fond memories. Research shows that water play actively promotes many areas of development for babies and toddlers.
Developmental Benefits of Water Play
Sensory Development
Water play introduces you and your baby to a series of engaging interactive sensations.
Her sense of touch plays a major role in how your baby perceives her surroundings. Playing together in the water gives her the chance to safely experience different temperatures (hot, warm, cold) and textures (slippery, coarse, wet, dry). Depending on where you are, your baby will also get to experience some fascinating new scents and sounds.
Motor Skills Development
Whether on dry land or waist-deep in water, little bodies love to move around. In the water, actions like gripping and squeezing (wet toys, sponges, or sand) promote the development of hand-eye coordination and grip. Water resistance provides gentle exercise for little limbs, especially when your little one is cycling or paddling.
Supervised periods of sitting and standing in shallow water can help your baby learn how to support her body by preparing her to independently bear more weight. The water's support and your careful guidance can gently relieve some of gravity's pull, letting your baby practice stability and balance.
Spatial Awareness
Playing in the water allows your baby to experiment with new concepts, especially when playing with toys. Container games exercise a baby's sense of spatial awareness and promote an early understanding of concepts like "empty" and "full." Concepts such as "over" and "under" can be introduced by submerging toys and other objects that either float or sink. Actions such as turning a bathtub faucet on and off, or draining water by removing the plug, provide your baby with early demonstrations of cause and effect.
Creative Play
Open-ended play encourages creativity and cognitive development. Water play especially promotes exploratory and functional play. Water itself is an interactive medium with several properties that both cause sensation and respond to your baby's actions. In toddlers, a wet environment can potentially inspire aquatic-themed role-play games that aid in social development. Even if she is still too young to engage in more complex forms of play, your baby will benefit from the cognitive boost she gets by simply observing and interacting with the water and her surroundings.
Undivided Attention
Playing together in the water is especially intimate for you and your baby, because it is one of those precious times during which she requires your undivided attention. While this is necessary for her safety, it also gives you uninterrupted time to focus on maximizing serve and return interactions. Positive interactions during water play teach your baby to feel safe and confident around water. This lasting impression is especially beneficial during bath time and eventually, her first swimming lessons. Self-assurance promotes faster, longer lasting learning.
Safety First
The water found in public swimming facilities is usually pH balanced and perfectly safe for babies, but be mindful of water that has too strong an odor or appears to be discolored. The same goes for ocean water. A baby's skin and face can be extremely sensitive to concentrated irritants. Neither pool nor ocean water should be ingested. Children and babies can drown in less than three inches of water, so always be sure your baby is within sight when she is near a body of water. If you plan on visiting the pool or beach, be sure to review important water safety tips before taking the plunge.
Water play is an invigorating opportunity to spend time together while supporting your little one's development. Looking for fresh ideas to maximize the benefits of water play? You'll find several engaging options in the sensory section of our BabySparks program!