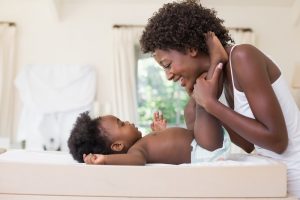 As your baby grows, you'll notice all kinds of changes in his bowel movements. Some changes to the color or consistency of his poop are normal, but other changes could signal a problematic condition known as constipation.
Several things can cause constipation, so it can be confusing for parents or caregivers to know what the trigger is. In most cases, constipation is temporary, and a few tweaks to your baby's diet and eating behaviors could make his digestive system run smoothly again. However, chronic – or repetitive – constipation can become a severe issue for babies and toddlers.
Highlights: 
In most cases, constipation is normal and temporary, but chronic or repetitive constipation can become a severe issue. Reach out to your pediatrician if you're concerned. 

Constipation is infrequent bowel movements or the inability to poop. 

Constipation can be caused by:

A change in diet. 

Medicines that interfere with digestion. 

Not drinking enough water, formula, or breastmilk.

Not getting enough fiber. 

Anxiety and stress caused by a change in routine. 

Fear of using the potty.

Your child can overcome most cases of constipation with water, fiber, and exercise. 
Constipation 101
Constipation is infrequent bowel movements or the inability to poop. This is a more common issue in older babies and toddlers who are experimenting with new foods in their diets, but it can also happen unexpectedly to young infants.
What Causes Constipation?
A change in diet commonly sparks stool changes, especially later in infancy when you introduce solid foods to your baby. Toddlerhood is also a prime time for constipation to happen occasionally with diet changes.
But there are plenty of other less obvious causes of constipation, like:
Medicines your baby might be taking that interfere with the digestive system
Not drinking enough water, formula, or breastmilk each day
Not getting enough fiber
Being overly stressed or anxious, often from changes in routine
Avoiding using the potty out of fear
Traveling or sitting for long periods
Constipation Symptoms
The most obvious signs of constipation in babies and toddlers are infrequent bowel movements and straining when trying to poop. Your baby's face might turn red as he strains to move his bowels, while your potty-training toddler may tell you that it's hurting him to go potty. Other constipation indicators include:
Your baby crying when trying to poop
Runny stool in a diaper or underwear between attempts to poop
Hard, bloody, or very dark poop
Your toddler complaining of consistent belly aches
A bloated belly
Your toddler becoming afraid of trying to use the potty
Little to no desire to eat
When Constipation Might Be a Problem
Most babies up to one-month-old poop a few times per day. For babies two months old and older, that number lowers to once or twice a day, or even skipping a day in between. Breastfed babies may poop even less frequently because of the way breastmilk is digested. Older infants and toddlers generally go once a day but might poop once every two or three days.
If your baby seems regular according to his schedule and isn't straining or in pain, there probably isn't an issue. If your baby goes more than three days without a bowel movement and seems bloated, uncomfortable, or pained, you should visit the pediatrician. Any baby under two months old with constipation symptoms should see a doctor as soon as possible.
Chronic, or frequent, constipation in your baby or toddler can signal an underlying issue that should also be checked out by a pediatrician.
How to Get Things Moving
Fortunately, your baby can overcome most cases of constipation with your help. The three key things to remember are water (or formula or breastmilk for babies), fiber, and exercise.
If your baby experiences a bout of constipation, try giving him a little more breastmilk or formula to keep him hydrated. A good rule of thumb for daily toddler water intake is about 1 cup per age.
Fiber should become a staple in your baby's diet. If you're breastfeeding, be sure to get plenty of fiber in your own diet from whole grains, fruits, and vegetables. Feed toddlers and solid-food-eating babies fibrous foods like prunes, spinach, broccoli, pears, and oatmeal.
Don't forget to keep moving with your baby! Exercise is essential for several bodily functions, including keeping the gut healthy. Do bicycle movements with your baby. Get up and dance or take a walk with your toddler. Create an exercise routine that you love to do together and stick to it!
Constipation can be normal on occasion, but sometimes is a sign of other health issues in babies and toddlers. If you're ever unsure about your baby's symptoms, giver his doctor a call. Usually, positive changes in his diet and exercise routine can put his digestion back on track.