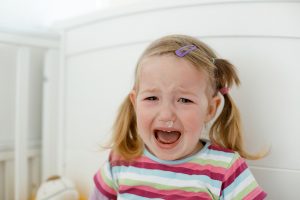 Night terrors is one of the toughest child sleep issues a parent can face. If you've experienced your child having one, you know the scene: You jolt awake to the sound of him screaming and dash into his room to find him sitting up and flailing. He is breathing heavily and when you try to pick him up you feel that his heart is racing. His eyes are open, but he is looking right through you, and all of your attempts to calm him are futile.
"As scary as night terrors are for parents, they aren't harmful to the child," says Pediatrician Dr. Jaime Edelstein of Gables Pediatrics. "Parents need to know that children have no recollection of night terrors, and they usually resolve on their own over time."
Highlights: 
Even though night terrors aren't harmful to children, they can be tough on parents. 

They most often occur in toddlers and preschoolers, but they're considered rare. A child experiencing a night terror remains asleep and is inconsolable, which sets them apart from nightmares. 

Night terrors can be caused by: 

Being overtired or feeling ill

Having medical conditions that disrupt sleep

New medication

Change in routine

Doctors advise against medications like Benadryl or disruptive waking tactics (shaking or turning on bright lights). 

Parents should stay close by to make sure children are safe until the night terror passes. You can also try relaxing bedtime routines, promoting healthy sleep habits, keeping track of night terror patterns, and talking to your pediatrician if they persist. 
What Are Night Terrors?
Night terrors are relatively rare and according to the American Academy of Pediatrics, they "occur most often in toddlers and preschoolers." They start 2-3 hours after a child falls asleep, when he transitions from a deep sleep phase to light sleep phase known as REM sleep.
Night terrors can be distinguished from nightmares because a child having a nightmare usually wakes up, may seek you out, and can be comforted back to sleep. A child having a night terror remains asleep and inconsolable.
Usually night terrors last only a few minutes, but they can last for up to an hour. They can occur once or several times, randomly or in a pattern.
What Causes Night Terrors?
Although pinning down a cause can be tricky, Edelstein says parents need to look at all areas of a child's life for the presence of any of these possible culprits:
Being overtired
Having a fever or other illness
Medical issues that disrupt sleep such as reflux or enlarged adenoids or tonsils
New medication
Significant change in routine, such as moving
Having inherited a tendency for night terrors
What Can You Do?
Edelstein discourages using medications like antihistamines (Benadryl) to try to keep a child in a deep sleep. He also cautions against disruptive wake-up tactics like shaking or turning on a bright light, which can confuse and upset the child and make it difficult for him to fall back asleep.
"Try talking to him gently and quietly," Edelstein suggests. Some child sleep experts also say you can try rubbing your child's back or holding his hand, but if these subtle attempts are ineffective, it's best to stand by and wait it out while making sure he is safe. If he's in a crib and moving around, you can make sure he doesn't hurt himself. If he's in a bed, you can keep him from falling out or sleepwalking.
Some other things to keep in mind:
Keep a relaxing bedtime routine at the same time every night.
Put your child to sleep early enough that he doesn't become overtired.
Be sure your child gets plenty of sleep.
Talk to your pediatrician if:

night terrors are frequent,
night terrors are disrupting other family members' sleep,
you suspect your child may have a medical issue like reflux, or
your child tends to snore or breathe through his mouth at night.
In cases where night terrors occur in a pattern, you can try the following:
For several nights, keep track of the time the night terror occurs. When you see a pattern, start waking your child up 15-20 minutes beforehand. Gently keep him awake for about 5 minutes and then help him back to sleep. Do this for several nights and then stop to see if the night terrors have gone away.
Above all, hang in there. As with many difficult childhood phases, night terrors will pass.