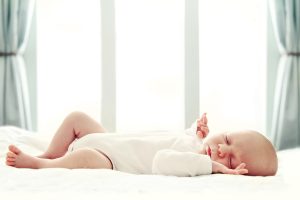 As any adult who's had trouble sleeping knows, the habits around sleep (like winding down before bed and creating a comfortable sleeping environment) play a big role in falling and staying asleep. Good sleep habits are lifelong skills that you can start teaching your baby from day one. These habits can also set the stage for successful sleep training, which many parents turn to when their babies are around 4-6 months old.
Highlights:
You can start teaching your baby good sleep habits now. 

Experts advise going with your baby's flow in months 0-3. Parents can promote good sleep by keeping daytime bright with gentle activities, helping them fall asleep before they're overtired, and keeping nighttime hours dark, calm, and quiet. 

3+ months is a good time to move away from feeding until falling asleep. Babies need to learn to fall asleep through different activities so they don't become dependent on feeding as a means to sleep. 

Parents can help babies 3+ months develop good sleep habits by setting a schedule (regular wake-up, meal, nap, and bedtimes), bedtime routines (PJs, book, lullaby), and allowing babies to settle in on their own. 
Below are common tips for instilling good sleep habits for your baby, separated into two age groups, as babies younger than 3 months have different needs than older babies.
Browse BabySparks Expert-Led Online Baby Sleep Classes
Sleep Habits for Babies 0-3 Months
Although opinions differ about every aspect of baby sleep, most child development experts advise that until 3 months of age you go with your baby's flow. He will need to eat frequently both day and night, and he will seek comfort as he adjusts to the world after months of being in a cozy womb. Even though it might be too early for a schedule at this age, you can still do the following to promote good sleep:
Keep daytime bright and gently active. In the morning, open the curtains and let light into the room. Give your baby tummy time, sing, play, do your BabySparks activities with him, and take him outside for fresh air. We say "gently active" because babies at this age can easily become overstimulated. They also need lots of cuddles!
Avoid an overtired state. When we are overtired, our brains produce the stress hormone cortisol, which wakes us up. Watch your baby for signs that he's tired, like yawning or rubbing his eyes, and help him fall asleep before he becomes overtired.
Keep nighttime calm, dark, and quiet. Close the curtains and use a soft voice. When it's time for sleep, consider using a white noise machine to drown out sounds (like loading the dishwasher or still-awake older siblings).
Create a comfortable sleeping environment. Soft pajamas and sheets and a moderate temperature in the room can help.
Sleep Habits for Babies 3+ Months
At this age, babies are typically ready for more routine. You can set feeding, nap, and sleep schedules. While it's generally not an issue to feed newborns to sleep, many experts agree that by 3 months it's good for babies to learn to fall asleep by different means so they do not become dependent on nursing or bottle feeding. Here are things you can add to promote sleep when your baby turns 3 months old:
Develop a schedule. Set a regular wake-up time, mealtimes, nap times, and bedtime. This can help your baby prepare for sleep at predictable times.
Follow a bedtime routine. A bedtime routine (pajamas, book, lullaby, for example) both calm your baby down and condition him to prepare for sleep. Routines can be brief and simple or long and elaborate, depending on how much time you have. The important thing is to do similar things in a similar order at a similar time each night.
Replace feeding-to-sleep with another activity. To avoid your baby becoming dependent on nursing or bottle-feeding to fall asleep, try feeding him at the start of your bedtime routine. As the last step, try rocking or gently bouncing your baby until he's sleepy but still awake, then put him in his crib to finish falling asleep on his own. When babies start getting a majority of calories from solid food (by 12 months or so), you can consider dropping the before-bed nursing or bottle altogether. Your pediatrician can help you determine when that's appropriate for your baby.
Give baby a chance to settle on his own. Sometimes babies wake up, make noise or even cry, but quickly settle on their own. If your baby fusses in the night, try waiting a minute before you respond to see if he really needs your help.
The key to maximizing good sleep habits is to stay as consistent as possible. These habits will help ease changes like traveling or switching from a crib to a bed, and will serve your child for a lifetime.