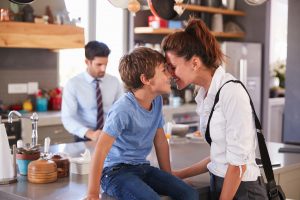 Balancing parenting and working is top-of-mind for working parents, because it's not an easy feat. It can be hard to plan for an important meeting when you're waking up several times a night with a baby, or stay focused when you're worried about a child with special needs. Parents want to raise amazing kids and excel at their jobs – but to do this, they need support.
According to current statistics from the U.S. Department of Labor, at least one of three employees is a parent. Parents make up a significant demographic of almost every workforce in the country, and they have specific challenges:
Reconciling changes in priorities and expectations
Experiencing sleep deprivation
Struggling in their marriage or parenting partnership
Managing time effectively
Addressing child health issues
Dealing with depression, anxiety or other mental health problems
Navigating children's transition to adolescence and related behavior
These challenges affect parents both at home and at work and, for employers, can lead to:
Increased absenteeism
According to Child Care Aware, "U.S. businesses lose approximately $4.4 billion annually due to employee absenteeism as a result of childcare breakdowns."
Lower retention
The PEW research center says that "50% of women report needing to take a career break after starting a family," and Employee Benefits News adds that "the average cost of replacement is estimated to be 33% of a worker's annual salary."
Lower productivity
The Sleep Foundation and National Library of Medicine state that "new parents are more likely to experience sleep deprivation; leading to fatigue-related issues that cost employers around $1,967/employee for U.S. companies – or $136.4 billion per year."
Increased healthcare costs
According to the Kaiser Family Foundation, "healthcare costs paid by large employers as premium contributions for family coverage increased in the last decade by 51%."
What Can Companies Do to Support Working Parents?
Aside from building room for flexibility when it comes to less-frequent needs like family emergencies and school functions during the school day, employers can support their working parents by offering them services that help them address the common challenges we talked about above.
That's where BabySparks comes in!
When you offer BabySparks to your working parents, they get support from our two main services – all in one app:
Our online live and on-demand classes, led by leading parenting experts and covering the most common struggles, questions and stages parents face: including baby and child sleep, potty training, work/life balance, parent mental health, parenting children with ADHD and autism, family financial wellness, and much more. Parents also get access to affordable private coaching if they want more personalized guidance.
Our early childhood development program guides parents through the first three years, using smart technology that learns and adapts to their child and family's specific needs. Parents get simple, daily play activities that support development and can be done with parents after work, or by anyone caring for the child during the day. Comprehensive milestones and tracking tools give parents peace of mind, or help flag potential red flags. A daily feed offers stage-based articles, tips, videos and more.
Bottom line: businesses thrive when employee families thrive! Promoting a parent-friendly workplace provides countless benefits for everyone involved.
To learn more about BabySparks and how you can offer it to your working parents, please reach out to us at employers@babysparks.us