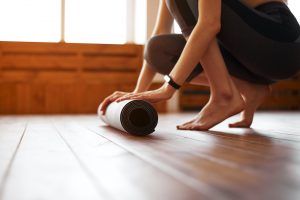 From pregnancy to childbirth and breastfeeding to caretaking, a woman's body proves to be nothing short of extraordinary. And with these incredible feats also come incredible aches, soreness, fatigue, and sometimes even depression. Even women who describe their pregnancies as easy or unchallenging are still often surprised by the complexities of their mental and physical journeys after childbirth. To help new moms heal, recover, and safely tap back into physical activity, we turned to our pilates/yoga-for-moms guru, Wendy Foster, for guidance. 
The Origin of Wendy's After Baby Pilates/Yoga Class
Wendy designed her After Baby Pilates/Yoga class after experiencing her own challenges with childbirth. When faced with an unplanned C-Section, which was followed by a period of postpartum depression, Wendy was looking for a special kind of support that didn't quite exist yet. "We all plan the best we can to have a specific birth outcome, and then Mother Nature has her own plan. Afterward, I felt like there wasn't a lot of guidance once I was discharged from the hospital," says Wendy. Like so many other new moms, her doctors advised her to rest for 6-weeks following childbirth, and at her 6-week check-up, she was cleared for activity, yet her body didn't feel ready. "To me, it didn't really add up or make sense philosophically or physically." 
Wendy looked around to find help getting back into her body, but couldn't find anything. She realized that other moms were also facing this dilemma. "I decided to create a path forward for myself, using what I knew about yoga and pilates. In my postpartum stage, even the most basic exercises were still too advanced for my recovery, so I broke down those exercises, modified them, and that's how my Mamalates class was born." Wendy also decided to incorporate babies into the class, which was not only great for bonding, but it also helped the class become more accessible to moms who couldn't find supplemental childcare. Seventeen years later, her pilates/yoga methods continue to help moms all over the world recover, feel more energized, and resume activity after childbirth. 
Benefits of After Baby Pilates/Yoga
First and foremost, Wendy wants moms to know that her class welcomes all levels of fitness, and it's a safe atmosphere with no judgement. "This isn't about losing ten pounds or fitting into those skinny jeans," she says. Her class emphasizes stretching to help relieve pain, and techniques that center on stability and grounding. "We focus on both physical and mental stability that all moms need, using things like breathwork, which helps at a time in your life when you may not be getting a lot of sleep or you're not sure what to expect from one day to the next." Wendy helps moms safely connect to their core and reintroduce themselves to their body. "If you're in pain, it's hard to be that mom that you want to be, so postpartum is a great time to try something new and create new habits." 
Wendy Foster's After Baby Pilates/Yoga class can help moms learn mental and physical techniques to heal, recover, and utilize functional fitness. If you're interested in learning more about yoga and its benefits, here are a few gentle yoga poses for new moms to help get you started!