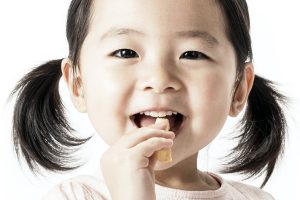 We all want to make sure our children get enough well-balanced food to keep their tummies satisfied and their bodies healthy. But for toddlers, mealtimes can be hit or miss – due to pickiness, asserting their opinions ("You gave me the wrong cup!"), or simply because it's hard for them to sit still. What's more, little tummies fill up with just a little bit of food.
Snacks are one way to ensure that your little one is getting the calories and nutrients they need. The key to healthy snacking is making those between-meal bites nutrient dense and well-portioned.
Browse Our Expert-Led Online Baby & Toddler Feeding Classes
Highlights:
·      Healthy snacks help ensure that toddlers get the calories and nutrients they need.
·      To keep snacks healthy, pair fresh fruits and veggies with a protein and/or whole grains.
·      Keep in mind that many processed foods contain a lot of sugar and salt.
·      Create snack routines by serving them around the same times each day – right in-between meals.
·      Encourage your child to sit for snacks, just as they would for a meal. This promotes mindful (and safe) eating.
Healthy Snack Options for Toddlers
When it comes to a snack, the most important question is: How healthy is it? You can't go wrong with fresh fruits and veggies. Add a protein (like cheese or nut butter) or a carbohydrate (like healthy crackers or whole-grain bread), and you've got a yummy, well-balanced snack.
A general rule of thumb is to limit processed foods. But when you do go with something packaged, the fewer ingredients, the better. And keep an eye on sodium and sugar; you might be surprised by how much sugar are in foods like baby yogurt or fruit juice.
Here are some healthy toddler snack options, along with suggested portion sizes (it's easy to overestimate how much food fits in a toddler's belly). Remember, these are suggestions. We always recommend discussing your child's individual nutrition needs with your pediatrician.
1/3 cup oatmeal topped with berries
Apple slices (cut thin) with peanut butter
1 slice of whole-grain bread with turkey and avocado
A hard-boiled egg
Carrots (cut thin) with hummus
Small cup of smoothie – (Endless options! Add fruit, spinach, nut butter…)
When Should Toddlers Snack?
Experts recommend creating snack routines. Routines, in general, help toddlers develop self-regulation, and snack routines can help promote mindful eating. Most toddlers will need a morning and afternoon snack, timed right between meals.
When your toddler snacks, it's best for them to sit down and eat – just as they would for a meal. If you're out (at the park, for example), have your tot take a play break and sit for snack time. This not only helps them learn to enjoy food and pay attention to what to they're eating, it's also safer than eating on the go. Bonus if you sit with them for snacks: They get all the extra benefits of a "family meal!"
Some toddlers may need a few bites or sips of something before bedtime (again, check with your pediatrician on this) to level out blood sugar and help them sleep. It's important to avoid too much sugar or anything chocolate before bed, though, because it could sabotage that better-sleep goal.
Snacking is a normal and healthy part of toddlerhood. Head over to this article to learn more toddler nutrition tips.