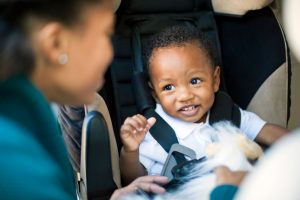 When driving with your baby, it's common to feel anxious about traveling with this precious cargo! But remember, most injuries that happen on the road are preventable. That's why it's so important to know proper car seat safety.
Types of Car Seats
Even though there are countless brands and models of car seats, there are three main types. Many car seats are designed with a certain age in mind, but it's important to pay attention to height and weight guidelines as well.
Rear-facing car seat: This is the very first car seat your baby will have. Infant models are popular, because they're portable – you simply click them in and out of a base that's installed in your car, and then you can click them into compatible strollers or even carry them.
Other rear-facing options are convertible or 3-in-1 car seats, which stay installed in the car at all times. Both can be used rear or forward facing. The downside of using one these from the get-go is that they're not portable, but the upside is that they have higher height and weight limits, so they'll grow with your child.
Forward-facing car seat: Around age two, your child will likely outgrow the height and weight limits for rear-facing car seats. This is when it's safe to switch to a forward-facing car seat.
Booster seat: Once your child has outgrown the height and weight limits for a forward-facing seat, it's time to move him into a booster seat. A booster seat basically "boosts" him up to an adult height so he can use the car's seat belt correctly. It's important to point out that you shouldn't be in a rush to switch to a booster seat. As long as he's comfortable in a forward-facing seat, it's perfectly fine to keep him there. The harness on a forward-facing seat adds an extra layer of protection and is considered much safer. In addition, your child must be mature enough to handle a booster seat on his own. This means that he understands he has to stay in the booster seat throughout the entire ride. If you're afraid he might unlock the seatbelt, move the shoulder or lap strap, or try to move out of the seat, he's not ready for a booster seat.
Getting Your Installed Car Seat Checked by a Professional
After you purchase and install your car seat, it's highly recommended to have a trained professional check it for you. In the U.S., a certified Child Passenger Safety Technician (CPST) can do this. Most firefighters are certified CPSTs, so head to your local station to have a professional ensure that your car seat is in good condition and has been properly installed. It's also important to register your child's car seat so you'll be notified if there are any recalls.
Other Safety Tips
Here are some other tips and best practices for car and car seat safety:
Thick or bulky clothing, such as winter coats, should not be worn underneath the harness of a car seat. The extra clothing creates a space between the harness and your child's chest, meaning that if there's an accident, he could slip out from under the harness. Remember to remove bulky clothing and use a coat or a blanket over the harness to keep him warm during the winter.
Choose soft toys for the car ride. Toys that are heavy or have rigid edges shouldn't be used in the car. Be sure to remove any loose items in the back seat before you drive.
Remember that mirrors can be a distraction. Some parents and caregivers like to use a back seat mirror so they can see their rear-facing baby while they drive. While it can be an advantage to be able to check on him throughout your ride, remember that these mirrors have some potentially-dangerous disadvantages. First, it can be a huge distraction. There's a good chance you can take your eyes off the road at a critical moment. Second, in the case of an accident, the mirror can become a loose projectile object that can harm any passenger in the car. Most experts say it's best to not use them.
Always wear your seatbelt. This is a rather obvious tip! However, some caregivers will get into the habit of not wearing their own seat belts so they can easily reach around to assist the baby in the back seat. Remember that everyone in the car should have their safety belts on at all times.