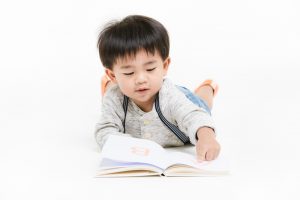 Have you ever tried to learn another language as an adult? Maybe you've attempted to ask for directions or order food using the native language of the country you're visiting. If you've ever found yourself in this vulnerable position, you know that learning and speaking a new language is incredibly difficult. It can put a toddler's language errors into perspective when you consider how challenging it is to master all of the proper pronunciations, articulations, definitions, and grammar rules of a language.
But despite the fact that toddler language errors are common, parents and caregivers might be concerned about their toddler's language skills during this developmental stage. Is it okay that she refers to the dog as dada or says she feeded the cat? How should you correct these errors? Thankfully, linguists and cognitive psychologists have completed a lot of research to help us understand the mystery and magic of what it's like for a young mind to learn a language.
Common Language Errors in Early Development
Here are some of the most typical language errors that you'll hear toddlers make:
Underextension
Underextension is when she learns a word and applies it to a specific object, but she doesn't extend it to the same object in a different place or context. For example, she knows the word dog applies to your family's dog, but she doesn't extend the term to other dogs.
Overextension
Overextension is when she uses one term to refer to other objects that appear to be similar or in the same category. For example, when playing with her toys, you might notice that she's mastered the word ball. If she starts to refer to all of her toys as ball, that's an example of overextension.
Overregularization
Overregularization is when she applies a regular grammatical change to an irregular word. For example, she's figured out that you would normally add an -ed to form the past tense, so instead of saying came she'll use comed. Another example is when she attempts to make an irregular word plural, such as tooths instead of teeth.
Segmentation
Speech segmentation is the process of learning the pauses or breaks between words and syllables. Basically, this is her learning the sound structure of language. For example, she may consider the cat as thecat. Over time, she'll detect that the word "the" will often come before an object and learn to separate the two words.
Syntax
Every language has its own set of rules when it comes to forming sentences. Syntax is basically the proper structure of a sentence. An example of misusing syntax would be her saying "me go school" or "apple mine".
The Logic Behind the Mistake
One of the most interesting things about toddler language errors is that many of these mistakes are actually pretty smart! Infants develop reason and logic before they master their language skills. So when a toddler says eated instead of ate, she's pulling from her knowledge of other past-tense verbs. Many of these errors stem from assumptions that she's made from learning other words or phrases. For instance, if she calls a family friend momma, she's making the assumption that most females that show love and care for her are called momma. Remember that there's often a reason why they've chosen the incorrect word, and most of the time, it makes sense. It may be wrong, but know that there's a method to their language error madness! Even if these mistakes happen often, you shouldn't be too worried that these errors will follow her into elementary school.
How to Approach Language Errors
By now, you're probably saying to yourself, "Great! She's not just creating her own language! But how should I respond when she makes these mistakes?" Experts say that a good rule of thumb is to respond accurately without overtly correcting them. When she says "me go school" you can simply say, "Yes, that's right, you went to school today." Toddlers want to hear the correct version. However, don't get down on yourself if you sometimes say me hungry or time to brush teeths. The most important thing to remember is to talk to them as much and as correctly as possible. The more they hear words, sentence structures, and language sounds, the more they absorb and remember.