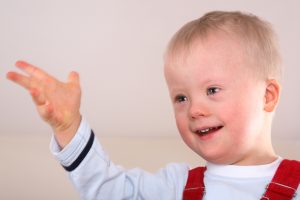 What is Down syndrome? What causes it? And how does it affect the children who are born with it? In this article we'll explore all of those questions, and more.
What is Down syndrome?
Down syndrome (DS) is the most common chromosomal condition. It begins during conception, when a baby's 23 chromosomes are duplicated and a third copy of chromosome 21 is produced (thus the scientific name for Down syndrome: Trisomy 21). This extra copy results in many physical and developmental differences. But, it's important to note that each child experiences DS differently.
What are the effects of Down syndrome?
Some of the effects of DS are physical, such as decreased muscle tone, a flattened face, and upward slanting eyes. About half of those with DS experience congenital heart disease, and may have problems hearing or seeing. Other medical issues that could develop include pulmonary hypertension, thyroid problems, gastrointestinal problems, seizures, and others. For parents of children with DS, a close partnership with a pediatrician who is knowledgable in DS is key.
Developmentally, children with DS may have shorter attention spans, poorer impulse control, learn more slowly, and have delays in language development.
Is Down syndrome more common today?
Because DS occurs more commonly when a woman has a child later in life AND because many people today are waiting to have a child, DS is likely to become more and more common.
Mom's age is 35: 1 in 350 children affected
Mom's age is 40: 1 in 100 children affected
Mom's age is 45: 1 in 30 children affected
But birth rates are, of course, still higher in younger women, so about 80% of Down syndrome cases occur in women who are younger than 35. And it's not all about the moms! The extra chromosome 21 can come from either parent—about 5% of have been traced to the father.
What do parents and caregivers of children with Down syndrome need to know?
The happiest news of all—DS used to mean a limited life expectancy (just 9 years on average in 1910), but thanks to many advances, today as many as 80% of those with Down syndrome live into their 60s. That means there are many ways to support a child with DS and help him reach his full potential into adulthood.
Now it's time to delve into our articles about the ways that you, as a parent or caregiver, can support a child with Down syndrome with their language, motor, cognitive, and social emotional development.