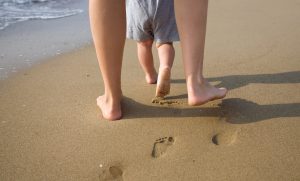 Do you have plans to visit family this holiday season? Head to the beach for a week this summer? Take a vacation? Just because you're taking a break from everyday life doesn't mean you have to take a break from BabySparks. In fact, vacation is a great time to use our program, because it adds variety to our activities and keeps you on track supporting your little one's development. What's more, we designed BabySparks so that most of the materials you need (if you need materials at all) are simple items that are easy to pack, or easy to find if you're away from home.
Highlights: 
Vacation is a great time for BabySparks!

Road Trips: Speech activities are great for long drives. 
Waiting at the Airport: Social-emotional, fine-motor, and speech activities can keep toddlers busy while waiting at your gate. 
On a Plane: Place the tray table down to conduct some fun fine motor activities. 
At the Beach: The beach is a sensory boosting wonderland! Most BabySparks activities are supercharged when you add sand and water. 
In Other Nature: Gross motor activities are perfect for a walk through the woods or a picnic in the park. If you have access to a safe, grassy field, let your little one enjoy some barefoot time in the great outdoors!
Here are some tips for traveling with BabySparks:
Road Trips
4-hour drive to Grandma's? Hopefully your little one will sleep through some (most) of it, but when he's awake, hop in the backseat with him (as long as you're not the only driver, of course) and do a few BabySparks activities. Good categories for the car are speech (so much to see and talk about out the window) and fine motor (you can use a travel tray that fits over his car seat if you need a work surface).
Waiting at the Airport
When you travel on planes with babies and toddlers, it's always a good idea to give yourself lots of extra time. This helps keep stress levels low(er), but it also means you might have extra waiting time at the gate. Find a spot near the windows where you have a little space. If your child is an infant, spread a blanket on the floor and do an activity. If he's a toddler, try a speech, social emotional, or fine motor activity and incorporate airport themes.
On a Plane
Again, for your sanity we hope your little one snoozes a lot of the flight away, but for awake time our reading activities are ideal. Or pop the tray table down for some fine motor fun. Antsy toddler? As long as the flight attendant gives you the thumbs up, do some walking practice up and down the aisles.
At the Beach 
Hello, sensory wonderland! Many of our activities across categories become super-charged in the sand and water! Plus, all that fresh air and sunshine are mood-enhancing for both your little one and you.
In Other Nature
Walk in the woods? Gross motor activities like "Walking in a Zigzag" or "Walking Sideways" are extra fun and challenging when stepping over sticks and stones. Access to an open field? Sensory and gross motor activities in the grass, yes please! Bonus for doing them barefoot, as long as the grass is safe. Picnic in a park? Collect rocks, leaves, or other items around you and substitute them in cognitive activities like "Classify by Size" or "Put Them Back in Order".
Include Older Siblings and Other Family
Vacations are often for families to gather and spend time together, so invite older siblings, cousins, grandma, and anyone else who is close to your child to participate.
One of the best things about keeping the BabySparks ball rolling while you're on vacation is that after you watch our brief instructional videos, it's screen-free, development-boosting, quality time for you and your child!