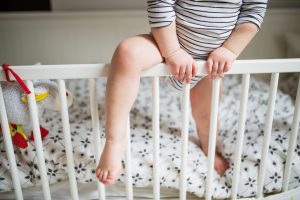 Graduating from a crib to a bed is an exciting milestone, but it can be hard to know when your child is ready for it. Some milestones, like starting solid food, should happen around the same age for most babies. But, like potty-training, the age for transitioning to a bed varies widely.
Here's what child development researchers and experts have to say about saying goodbye to your little one's crib.
When Should You Move Your Child from a Crib to a Bed?
Child development experts say there's no magic age for transitioning your child to bed-sleeping, but it might be best to wait until closer to age three. Research published in the journal Sleep Medicine looked at a sample of nearly 2,000 toddlers across five countries and found that 63 percent of 18-24 month-olds slept in a crib, compared to 34 percent at 24-30 months and 13 percent at 30-36 months. Despite the fact that crib-sleeping declined dramatically as toddlers neared age 3, the research found that across all ages, those who slept in a crib resisted bedtime less, fell asleep more quickly, had fewer wake-ups during the night, and slept longer overall.
What should we make of these findings? Experts say it may be simply that cribs are cozy. It's likely, too, that older toddlers are more cognitively ready to understand the rules around sleeping in a bed.
That said, every child is different, and sometimes younger toddlers are ready to for a "big kid" bed. Here are some signs that might be the case.
Signs Your Child Might be Ready for a Big Kid Bed
She's climbing out of the crib. If she's using the crib as a jungle gym, it may simply be safer for her to sleep in a bed. (To delay the climbing-out-of-crib stage, experts recommend cribs with adjustable mattress heights.)
She's too big for the crib. Some tall toddlers are content to curl up in a crib, but others may be uncomfortable because they can't stretch out.
She's ready for nighttime potty-training. If your little one has mastered daytime potty-training, she may be ready for trips to the bathroom at night.
She's asking to sleep in a bed. We can't always give toddlers what they want, but if she has the language to express that she wants to move out of her crib, you might consider it.
Another reason to move your little one to a bed, which has more to do with practicality, is having a new baby on the way who needs the crib. If your child is younger than 2, you may consider having two cribs. If you decide she's ready for the switch, be sure to do it a few months before baby is due so she has time to adjust. The period after a new baby arrives can be tricky for older siblings, and adding big changes to the mix can be stressful for everyone.
Once you decide it's time to say goodbye to your little one's crib, head over to our article on how to prepare her for sleeping in a bed (as well as tips for choosing a bed and triple-checking your babyproofing!).