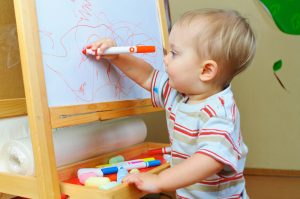 From marks on a paper to purposeful drawing (even though the "dog" she draws may still look like a blob), your child's artwork steadily evolves during her first two years. Aside from providing you with endless pieces to display in your house/scribble museum, art activities are grade A developmental fuel.
Highlights:
Throughout their first two years, children's artwork steadily evolves and provides the following developmental benefits: 

Builds muscles, fine motor skills, and hand-eye coordination.

Exercises bilateral coordination —

using both sides of the body in different ways at the same time, and executive function skills — planning something and working towards it step by step.

Offers varied sensory experiences depending on the tools and materials used. 

Boosts spatial awareness when drawing between lines or within the edges of paper. 

Encourages symbolic thinking, self-esteem, and creativity.
For this article "art activities" include coloring, drawing, and painting. Let's take a look at the many areas they support:
Use of Tools
Crayons, markers, and paintbrushes are among the first tools your child uses, and introduce her to the idea of using an object to achieve a goal.
Developing Muscles & Endurance for Schoolwork
Schoolwork requires body stability and strong wrists, hands, and fingers. Without these, children may experience "hand fatigue" (yes, that's a thing!). Art activities during the early years help strengthen your child's big and small muscles for the physical effort involved in writing, completing worksheets, and other school-related tasks. Bonus if your child uses crayons, because they require her to press relatively hard to create a mark.
Fine-Motor Control
Eventually your child will write small letters between narrow lines on a notebook page. This requires a tremendous amount of precision! You can see this precision develop as your child's big scribbles evolve into lines, circles, and abstract drawings, and as she gets closer and closer to coloring inside the lines in a coloring book.
Bilateral Coordination
Nearly everything we do with our hands requires us to use both sides of our body in different ways at the same time. Art activities (and even early attempts at cutting) are excellent ways to practice this. When drawing on a piece of paper, for instance, your child must hold the paper with one hand and draw on it with the other.
Executive Function
In order for your toddler to draw a dog, she must plan an outcome and work towards it in steps. She must focus, pace herself, and regulate her body. All of these are hallmarks of executive function, which you can read about here.
Hand-Eye Coordination
Art activities teach your child to hit a target (a piece of paper, for example, or a specific object in a coloring book).
Cause & Effect
Art activities reinforce your child's learning of cause and effect: I drag this marker across this paper and it leaves a mark. I choose blue paint and it creates a blue line.
Spatial Awareness
When your little one colors, draws, or paints, her cognitive development is especially busy. She learns about boundaries (drawing within the edges of a piece of paper, for instance) and concepts like up, down and around. Spatial awareness will become central to many tasks in life, like doing math, following directions, and parallel parking a car.
Sensory Integration
Art activities stimulate your child's sensory system in a few key ways: She learns about different textures when she uses different drawing tools and materials. She learns how to make sense of what she sees (including color discernment). She also learns how much pressure is required to produce marks, which is how we learn to use a pencil without breaking the lead, or how to adjust pressure to create darker or lighter shades.
Symbolic Thinking
Understanding that an image can represent a real thing is what art is all about, and it's a cognitive skill she will need for things like writing, reading, math, and problem solving.
Self-Esteem
Copying lines and circles, coloring in coloring books, and creating her own works of art are not easy feats, and doing them (combined with mindful praise from you) help build her self-esteem and desire to try harder things.
Creativity
Experimenting with different drawing tools and materials is a great way to encourage your little one to take creative risks.
Want to bring these benefits to the next level? Set your child up with a vertical drawing surface, like an easel. Here's why:
Extra Benefits of Art Activities on Vertical Surfaces
She must cross the midline of her body.
It involves big arm movements and holding her hand against gravity, which strengthen her shoulders and arms.
Standing while drawing develops body stability.
It simplifies spatial awareness learning because the concepts of up, down, side-to-side and so on are relative to her upright body.
Now it's time to grab some art supplies and have fun with your little artist! Be sure to browse our BabySparks program for art activities specifically designed to support your child's development.