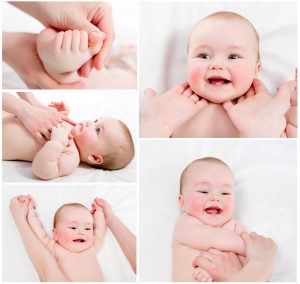 Taking time each day to massage your baby by gently pressing, rubbing, or kneading different parts of his body isn't just a sweet way to spend time with him. It's an ancient practice that is gaining popularity as research highlights the many ways it can support development, including these:
Highlights: 
Infant massage is an ancient practice that supports development in many different ways. 

Gently massaging infants promotes bonding, relaxation, and can have a soothing effect. 

Pediatric physical therapists recommend using infant massage techniques when babies are constipated. 

Infant massage can support sensory development, nurture language learning (when caregivers narrate movements), and even lead to better growth in premature babies.

Parents can use the BabySparks program to learn more about how to do an infant massage. Additional tips include:

Use massage in daily routines.

Use a non-toxic moisturizer.

Make the atmosphere relaxing (warm room, dim lights, soothing music).
Help parents and caregivers bond with baby. A warm, trusting relationship between a baby and his parents / caregivers is essential to development. The American Academy of Pediatrics notes that a big part of bonding is "close physical touch," and that massage is a great way to "stay in touch with your baby."
Relax baby for sleep. A massage before bed or nap time can help your baby unwind from the excitement of the day, which may help him fall asleep.
Soothe baby when he's upset. Because massage promotes closeness and relaxation, it may help your baby calm down when he's crying and you've ruled out hunger or physical discomfort.
Get things moving if baby is constipated. Known as "GI Massage," a pediatric physical therapist can teach parents or caregivers this technique to help move stuck stool through a baby's body.
Support sensory development. Of all your baby's senses, his sense of touch is the most developed at birth. Infant massage provides him with sensory input that helps him learn about his body and his surroundings. This is both a building block of gross motor development and a key part of sensory integration, or being able to understand and use the information we receive from our senses.
Benefit a premature baby. As we noted in this article, "studies show that for premature babies, regular massage can lead to better growth and development, better intake of oxygen, and a slowed heart rate during and after massage."
Nurture language learning. Massaging your baby is a great opportunity to teach him language by narrating what you're doing and labeling body parts.
How to Do Infant Massage
Browse our BabySparks program for tips about how to give your baby both a traditional massage and a massage that specifically targets sensory development.
Experts recommend these additional tips to get the most out of infant massage:
Build it into your daily routine. Massage can be used as-needed, but you can also make it a regular part of your day. You can do it after your baby's bath, for instance, when applying moisturizer, or during a morning diaper change. The key is to find a time when he enjoys it and you don't feel rushed.
Use a nontoxic moisturizer. An important part of development is exploring the body by putting hands, feet, etc. in the mouth, so be sure anything you use for massage is okay for your baby to ingest in small amounts.
Up the relaxation factor by creating a "spa" atmosphere. Make sure the room is warm, dim the lights, and sing or talk softly to your baby.
Start with gentle touch and increase pressure as your baby grows.
Follow your baby's cues. If your baby appears calm and content, keep going with the massage. If he seems restless or uncomfortable, stop the massage and try again another time. If he is consistently irritated by massage, check in with your pediatrician.
What About Toddler Massage?
Toddlers can benefit from massage in the same ways as infants, but they may be wigglier! Follow your little one's lead, massaging if he wants it and skipping it if he doesn't. When his big emotions kick in, try massaging his arms, legs or back while cuddling him to help him calm down.
Remember that if your child has any medical or developmental issues, be sure to talk to your pediatrician or another qualified professional (a pediatric physical or occupational therapist, for example) before starting a massage routine.