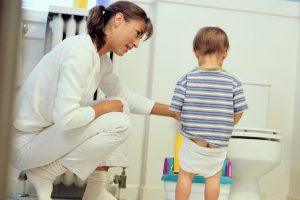 We've all heard a story about an 18 month-old toddler spontaneously potty training himself and wondered, Is he a magical unicorn? The truth is, potty training usually requires you to do research, plan, and navigate roadblocks.
Highlights: 
Potty-training involves researching, planning, and navigating roadblocks. 

This can be an emotional milestone for children, so roadblocks are normal. 

Familiarizing children with the process of using the toilet can help. Parents can do this by: 

Allowing your child to observe you in the bathroom. 

Narrating the process.

Letting them help you by handing you toilet paper or flushing the toilet. 

Talking about poop in a positive way. 

Placing a potty chair near their toys. 

Reading potty books.

Getting them excited about underwear. 

Encouraging independence. 
Roadblocks are normal, because potty training can be an emotional milestone for children. They feel ownership of their pee and poop and are used to feeling it close to the body. Letting it fall into a potty chair or watching it flush into the abyss of a toilet can be uncomfortable and scary. One thing that can help is familiarizing your child with the process of using the toilet, and you can start doing that long before the big day.
No matter which potty training approach you decide to use, these tips can ease the transition to diaper-free life for your little one:
Let your child be your bathroom buddy. She doesn't have to join you every time (we get it that using the bathroom may be your only alone time all day!), but here's the upshot: Observing you use the toilet familiarizes her with the idea that it's a part of everyday life. You may see her imitate the act during play, showing that she's getting comfortable with the idea.
Narrate the process. Narrating everyday actions is a great way to teach your child vocabulary, and explaining what you're doing in the bathroom helps her learn the potty words she'll need when it's her turn. This also helps her learn how to sequence the steps involved in using the toilet.
Let her help you. Don't worry, you don't need to hand over the toilet paper, but if she's interested in being involved you can let her do simple things like flush the toilet.
Talk about poop. If you're walking the dog, point out when he poops. You can say something like, "He poops on the grass, but I poop in the toilet and one day you will, too." Just try not to say this too loud if the neighbors are out. When you change her diaper, talk about her poop in a matter-of-fact way, avoiding words like stinky and Research shows that negative poop talk may make matters worse for potty-training rebels.
Put a potty chair near her toys. Including this in her playthings can help her feel familiar with it. She may sit on it to look at a board book, or use it in her play. Pretend play is a powerful teacher, and you can use dolls, stuffed animals or action figures to act out using the potty.
Add potty books to your collection. Books about potty training are a great way to familiarize her with the process in a fun, on-her-level way. "Potty" and "Everyone Poops" are both popular, well-reviewed titles.
Get her excited about underwear. If you're shopping, pass by the toddler underwear and show it to her. Talk about it as something special to look forward to. Let her know that when she's ready to use the potty, she can pick out her own underwear. 
Encourage independence. Potty training is easier if she's accustomed to mastering independent self-care tasks.
These preparations can ease your little one's transition to diaper-free life, but don't forget to prepare yourself too! Aside from researching methods and creating a plan, you can read about common potty training roadblocks and how to deal with them here.