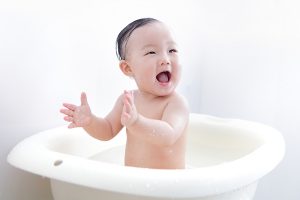 Whether it's waving goodbye when you walk out the door, clapping when you act silly, or lifting his arms when he wants you to pick him up, gestures are a fundamental part of your baby's language and social development.
Why are Gestures Important?
They help babies understand. Gestures support your baby's receptive language development, or his ability to understand language. Using gestures, such as pretending your hand is a cup and bringing it to your mouth when you say "drink," reinforces language learning.
They help babies communicate. Gestures are integral to your baby's expressive language development as well, and play a starring role during the months leading up to and following his first words. Before he can say no, for instance, he can shake his head.
They support social communication. Being able to navigate the social world involves "rules" like greeting others, taking turns, and reading and using body language. Gestures like waving, blowing kisses, shaking your head and pointing all support this. Relationships depend on social communication, and gestures like lifting his arms to be held or giving you a toy to initiate playtime help him connect with you.
They lead to better language development and academic success. Research shows that using certain gestures by certain ages (see below) predicts pre-school language skills, and pre-school language skills predict academic success.
They offer clues about possible developmental delays. Because gestures are so closely linked to language development, a baby not using enough of them may indicate a developmental delay. According to the First Words Project, if your child is not using 16 gestures by 16 months, it warrants an evaluation by a pediatric speech-language pathologist.
How do Gestures Evolve?
Although some gestures appear earlier, babies generally begin using them around 9 months of age. Here are some of the most common gestures that emerge by 24 months:
By 12 Months:
Wave — Your baby does this clumsily until his fine-motor skills are more developed.
Shake Head — He shakes his head to show you that he doesn't want something.
Put Hands Over Eyes (or similar) — He uses gestures to initiate games like peek-a-boo.
Grab or Pull on You — He does this to show that he wants your attention.
Reach — He reaches to touch something interesting, reaches out his hand if he wants you to give him something you have, and reaches up with his arms when he wants you to pick him up.
Show & Give — He holds up an object that he's interested in and wants you to see, and may give it to you as a way to engage with you, show you that he wants to play, or ask for help.
Point — This is one of the most powerful gestures, which he does to draw your attention to something or show you something he wants. His first attempts at pointing involve all of his fingers. The classic index-finger point evolves alongside his fine-motor skills.
Clap (some babies do this as early as 6 months) — He uses clapping to show excitement, or to engage with or entertain others.
By 16 Months:
Nodding — He does this to indicate agreement or answer "yes."
Culturally-Relevant Gestures — These include gestures such as thumbs-up or high-five.
By 24 Months:
Symbolic Gestures — These include gestures such as shrugging shoulders to say "I don't know," or holding up hands to say "Where did it go?" 
How to Encourage Gesturing  
Just like talking to your baby, your use of gestures is integral to his language development. The more a parent gestures, the more the child gestures, and the more the child gestures, the better his language skills will be. The best way to get him gesturing is to model and practice gestures with him every day!