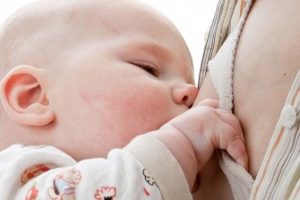 You might have thought breastfeeding would be a breeze. What could be easier than feeding your baby as nature intended, right? The truth is that breastfeeding can be tricky, and for many mothers and new babies it takes practice to get into a groove. Here are some of the top tips to help you get started.
Highlights: 
Breastfeeding can be tricky! Sometimes mothers and babies need a little practice to get into a breastfeeding groove. 

Frequent feeding routines can help mothers establish a milk supply and provide the closeness that newborns need. 

Positioning matters. Make sure you're comfortable and your baby is well-supported. (See nursing position slideshow in link below). 

Poor latching can cause inefficient milk intake and nipple soreness. Temporarily using a nipple shield can help.

Listen for a suck/swallow rhythm so you know there's a steady flow of milk and stick to one breast per feeding so your baby receives a higher fat content. 

Mothers should also practice self-care (rest, eat well, and drink plenty of fluids). Ask your physician about a lactation consultant if you need extra help. 
Feed frequently, especially at the beginning. Because new babies have tiny tummies and seek closeness, yours will likely want to breastfeed often. Frequent breastfeeding also helps establish your milk supply because it sends a message to your body to make more milk. Many experts recommend that for at least the first month you feed your baby on-demand (whenever he is hungry). Others, like Tracy Hogg, author of the "The Baby Whisperer", say you can start a feeding routine as early as 4 days old. Some mothers and babies are better suited for routine, and feeding every 2-2.5 hours works well. Others do better with feeding on-demand. The important thing to remember is that if you try a routine, you should still feed your new baby if he shows signs of hunger before the next scheduled feeding. Signs of hunger include rooting for the breast, sucking on his hand, restlessness, and crying.
Pay attention to positioning. There are several ways to position yourself and your baby for breastfeeding. Here is a great slideshow on nursing positions you can try. Check to make sure you are comfortable and your back and feet are supported; you are not feeling any pain; and your baby is supported, latched on well, and feeding efficiently (more on latch and efficient feeding below). A nursing pillow (like the Boppy or the My Brest Friend) can also help you position your baby.
Make sure your baby is latching on correctly. Latching refers to the way your baby places his mouth and establishes suction on your breast. Poor latch is a common source of breastfeeding woes, like inefficient intake of milk and ongoing nipple soreness. It is normal for nipples to be sore, and even cracked, for the first few weeks (you can rub breastmilk or nipple ointment on them), but if breastfeeding remains painful it might be due to poor latch. For a good latch, you want your baby to open his mouth wide and place his mouth around your areola, not your nipple. To get your baby to open wide, tickle or gently pull on his chin and then guide your breast into his mouth.
In some instances (if you have flat nipples or your baby is born early, for example) getting a good latch can be difficult at first. Temporary use of a nipple shield can help your baby learn to latch on (and save you from ongoing nipple soreness).
Listen for an even suck/swallow rhythm. One sign of proper latch and efficient breastfeeding is the sound of a suck/swallow rhythm. This indicates that your baby is getting a steady flow of milk.
Stick to one breast per feeding. Throughout a feeding, the consistency and fat content of breastmilk changes. It starts out thinner (foremilk) and becomes thicker towards the end (hindmilk). Hindmilk is higher in fat and is important for your baby's weight gain. To ensure that your baby is getting hindmilk, stick to one side until it's empty. If your baby wants to continue, switch to the other side. If he's satisfied, start with the other side at the next feeding.
Share a room with your baby. When you are feeding your new baby frequently at night, having him in a bassinet next to your bed will make nighttime feedings less disruptive for you.
Keep track of diapers. After your baby's first week of life, he should have 6 or more wet diapers in a 24-hour period. His stool will be yellow, seedy, and loose. This, along with normal weight gain, are indicators that he is getting enough breastmilk.
Take care of yourself. Try to eat well, drink plenty of fluids, rest when you can, and make sure any medications you take are breastfeeding-approved. Also, ask your pediatrician if you should give your baby vitamin D supplements, as many exclusively breastfed babies do not get enough through breastmilk alone.
Ask for help! Lactation consultants are trained professionals who can help answer breastfeeding questions and troubleshoot any bumps in the road. The hospital where you gave birth, your pediatrician, or even an internet search can help you find a lactation consultant in your area.
If breastfeeding is difficult but important to you, don't give up! It can take a few to several weeks to get into a groove, and challenges can pop up from time to time after that. But, with some troubleshooting and/or professional help, you can get on track and enjoy this special time with your baby.