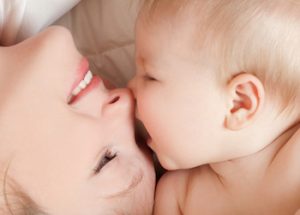 Babies give us cues all the time, but we need to look carefully to see them. Especially to a newborn, the world can be very stimulating, with so many new sights, sounds and textures to adjust to. And while some stimulation is exactly what is needed for baby to learn, too much can overwhelm her growing brain and make her cranky. And nobody wants that.
How is a parent to know how much to engage and when to pull back? The answer is: be responsive to what your baby is telling you.
Highlights: 
Stimulation is necessary for infants to learn, but they can easily become overstimulated.
In order to know how much stimulation is too much, you can learn to read your baby's signs:

Green light – baby is awake, alert, and ready to interact.
Yellow light – baby is showing signs of becoming overstimulated and may need a break.
Red light – baby is showing signs of feeling overwhelmed.

Understanding these signs can help you maximize opportunities to comfort, connect with, and teach your baby.
Think of your little one as giving you signals, not unlike a stoplight. In the beginning, when babies are limited to basic reflexes (crying and startling), the reason for their responses may be harder to sort out. But like a detective, you can become better at reading these cues as the months go on. Here are a few tips for how to spot (and maintain) a green light and how to read yellow lights before they turn to red in the first few months!
GREEN LIGHT – "I am ready to be engaged."
Look for Signs of Alertness and Focus. Wide open eyes and a still body signal that your baby is ready to take in what you have to offer.
Well-Rested Babies Learn Best: You know whether you have a baby who is more awake and alert at certain times of the day.
Keep Your Face Close (12 – 18 inches): Not only does this help you read the signs, but a closely held newborn is less likely to startle.
Keep Other Stimulation to a Minimum. Try to keep outside sounds and lights from being distracting. Soft music is OK in the background, but it's best that nothing else is competing for her attention. This includes cell phones and other screen devices.
Move Slowly and Repeat. In the first few months, transitions take a lot of mental energy from your baby. So, the pace at which you engage her — for instance, moving a rattle from left to right in front of her, so that she can visually follow the motion and sound– matters a lot. Abrupt movements or sounds will cause her brain to 'reboot' and that takes energy away from concentrating on the task at hand.
YELLOW LIGHT – "I am at risk for overstimulation."
Baby Looks Away from You: If the baby looks down or away, she may have reached a point where she needs to take a break, during both play and feeding. That's a perfectly clear cue to wait, watch and see what baby does next. The baby may return for more playful interaction, which is a great way to practice self-regulation.
Some Babies Demonstrate an "I'm Processing" Sign: Some babies show that they are processing information that may just take a little time. They are focused, but need to absorb a bit. One such indication is holding their hands together in front of them, demonstrating their interest.
A Look of Concentration or Worry: Babies may look as if they are frowning or pouting or even looking a little concerned. This could be a sign of concentration, but it is also a clue that you might want to slow down your interaction a bit, before the baby gets too tense.
RED LIGHT – "I am overwhelmed; please stop."
Usually, you know when you've hit a Red light, because the baby is giving you some clear body or facial signals. Or screaming her head off! But let's review a few signals that are in the baby's toolbox early on.
Physically turning away: Turning and holding her head away strongly or arching her back are a couple of very clear signs your baby is asking you to stop. Disengaging at this point allows the baby to focus on resetting her brain for future stimulation. Pushing interaction past that point will only irritate her more.
Using hands to block or rub eyes: Rubbing her eyes or putting her hands in front of her eyes may also be an indicator that baby has had enough. Don't take this as rejection; see it merely as a sign she needs to rest.
Recent brain research has shown that babies learn while wide awake, resting and even sleeping. Their neurons are busy absorbing what the world has to offer. As adults we have had years to perfect our signals and our words. Babies need practice adjusting to stimulation. So try not to feel like an activity is a failure if your child ends up fussing or crying. See it instead as your baby learning to let you know when she needs a break. Just like the rest of us.
---
Maureen O'Brien, PhD is a developmental psychologist, parenting coach and author of 'Watch Me Grow: I'm One-Two-Three', available at http://amzn.to/1QtvyFl. More parenting tips and resources can be found on www.destinationparenting.com.