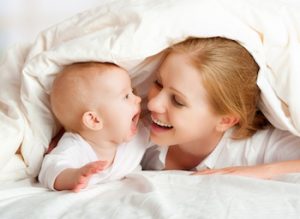 What do tongues, clapping and peek-a-boo have in common? Imitation, that's what. Babies love to imitate and we love to watch. As a newborn, when swaddled and facing you, babies just a few hours old will stick out their tongue when you stick out yours. It may take a few repetitions, but if you do it slowly, it works! What every mom wants to believe when she sees this skill is that she's birthed a genius. The truth is less dramatic: every infant's brain is wired to learn from the get-go. Inside that adorable little head, millions of neurons are creating new connections constantly, as babies make sense of their world. In the beginning, of course, their ability to imitate is limited to basic motions. Just because they don't have the coordination to copy more complicated things in the first few months, however, doesn't mean that they aren't still absorbing what they are seeing. Let's take a peek into what's going on.
Highlights:
An infant's brain is wired to learn through imitation.

Using harmless mini-MRI technology, researchers can see how babies' brains light up when watching or imitating adults.

When imitating a physical movement, a baby cognitively marks the moment, stores it in memory, retrieves it, and attempts to copy the action. This cognitive loop is evidence of brain-building.

Parents and caregivers can help reinforce learning and imitation by slowing down and repeating gestures, giving babies time to respond, smiling when babies copy you, and talking to babies throughout these interactions.
Some signs of imitation are obvious to parents, especially as babies get older. For example 9-month-old babies can wave goodbye months before they have the words to say it. Yet many signs of invisible learning go unnoticed by parents. Using a wired bathing cap or mini-MRI machines (both harmless techniques), researchers have found ways to peek inside baby's brains. While monitoring the children, scientists show them pictures, play music or put on puppet shows. Then they carefully document the babies' eye movements and other actions and link them to brain activity. The resulting scans have shown incredible results, such as
How Do We Know What Baby's Learning?
Seven-month-old infants' brains light up in different areas, depending on whether their native language is played or sounds of another language.
Seven-month-olds imitate facial expressions and are particularly good "lip readers." They watch adult mouths carefully and make the same shape with their own mouth (i.e., a rounded shape for "oo").
When 14-month-old babies simply watched an adult use her hand to touch a toy, the part of the baby's brain that controls her own hand movements lit up.
Fourteen-month-old toddlers who see an adult perform an action can remember it and imitate the same action perfectly a week later in the laboratory.
These and other results are giving parents a wider window into their youngsters' inner workings as babies' thinking, memory and bodies evolve. Physical imitation is easy to see – like clapping, blowing a kiss or playing peek-a-boo. As babies become toddlers, they continue to imitate actions: they pick up a toy phone, push buttons on it and then put it to their ear to listen – just like their parents. When it comes to language development, the imitation is silent. It is as if babies are practicing how to speak during the first year, before they even say a word! (This inborn ability to put together sounds and words is why young children have an easier time learning other languages than their parents do.)
So, while imitation is indeed the sincerest form of flattery to parents, it is also an important sign of healthy growth and development. When a baby imitates a physical action, her brain is cognitively marking the moment, storing it in memory, retrieving it and attempting to copy that action. This "see one-do one" cognitive feedback loop is certainly brain-building. It is also rewarding to parents and others in a baby's life and therefore builds social interaction. And the communication-building skills baby reaps from repeating sounds or pointing to letters also serve to boost language development. All of these examples represent how babies are born ready to imitate the world around them, using all their senses.
How Can Parents Help?
Here are some specific things parents can do to reinforce imitation and learning:
Encourage your child by showing that you understand your child is trying to copy you
Slow down and repeat gestures, words or animal sounds
Give your baby plenty of time to respond
Smile when you see baby copying you
Say, "Look at you trying to do/say what mommy's doing"
Seize the chance to occasionally copy your little one. When she claps, you can clap and say "Yay!"
Watch your child's response; odds are she'll light up and feel powerful that she 'created' that moment of connection between you. After all, it is the little moments like this that form your child's view of herself – that she is a capable, loved person who is eager and ready to learn from you and the world around her. And that she has something to offer, too.
---
Maureen O'Brien, PhD is a developmental psychologist, parenting coach and author of 'Watch Me Grow: I'm One-Two-Three', available at http://amzn.to/1QtvyFl. More parenting tips and resources can be found on www.destinationparenting.com.